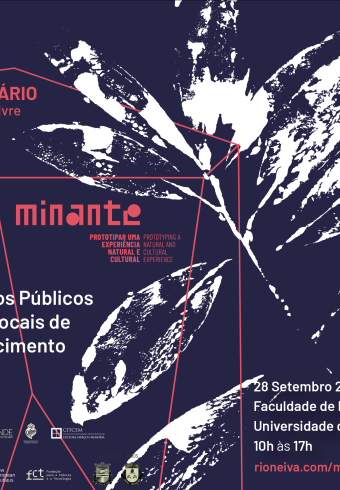 CITCEM, Rio Neiva - Associação Defesa do Ambiente, e Câmara Municipal de Esposende e Viana do Castelo
Education and Societal Challenges
Public spaces as locus of knowledge: Prototyping a natural and cultural heritage experience through co-creation with the local community.
Este seminário científico parte e decorre no âmbito do projeto em curso 'Minante: Prototipar uma experiência natural e cultural para a co-criação do espaço público', no rio Neiva, apoiado pela Nova Bauhaus Europeia.
Este evento é promovido pelo CITCEM – Centro de Investigação Transdisciplinar Cultura, Espaço e Memória, enquanto parceiro do projeto, e destina-se à investigadores e profissionais que trabalhem sobre o tema e orientações temáticas mais abrangentes.
Tem como objetivo promover um debate científico enquadrado na relação entre criação de conhecimento, espaços públicos, participação comunitária e sustentabilidade.
Orientações temáticas: Co-conceção do espaço público, Intervenções no espaço público, Memórias e histórias locais, co-criação e ciência cidadã como metodologias.