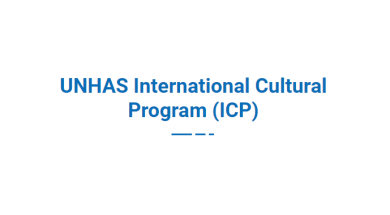 Valores de Transação/ Valores em Transição
Universitas Hasanuddin - International Cultural Program (ICP) 2020 - Call for participation
Chama-se a V/ atenção para a call, infra, recebida da Universitas Hasanuddin (Indonésia) e particularmente destinada a estudantes de pós-graduação.
UNHAS, an International Cultural Program (ICP) will be held virtually in October 2020 by the  Universitas Hasanuddin (Indonesia). The program has been designed for students who are not Indonesian citizens.
Entitled "Maritime Culture in Indonesia: Marine Resilience and Historical Perspective", the program covers some presentations on Historical Maritime Adventure, Pinisi Boat Production, and rich marine resources in Sulawesi, Indonesia. There are also some interesting sessions on Indonesian language and culture, virtual visits to the fish market and Bira Beach, traditional dance tutorials, and seafood cooking demonstration.
It can be joined by students from all program levels. We hope many students can join in this free, but high-quality, virtual program. The best participant in this program will have a full scholarship to join UNHAS ICP 2021 that will be held in Makassar, South Sulawesi, Indonesia, next year.
Registration can be done online through http://bit.ly/unhasicp2020 until 15 September 2020. Questions and further information can be obtained by sending email to internationaloffice@unhas.ac.id (Contact Persons: Karmila Mokoginta and Kumara Tungga Dewa).